What is the Cloud?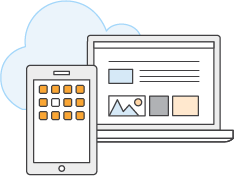 "Cloud Computing" refers to the on-demand delivery of IT resources and applications via the Internet with pay-as-you-go pricing.
Why run your applications on the AWS Cloud with magic beans?
---

Reduce TCO

Lower your TCO by paying only for what you use and improving resource optimization.

---

No More Hardware

Quit wasting valuable time procuring, deploying, and managing hardware and instead focus on your core competencies and customer relationships.

---

Same Tools and Capabilities

AWS is compatible with your existing applications, processes, virtual machines, software licenses, and more.
The time to migrate to the cloud is now

Cloud computing provides a simple way to access servers, storage, databases and a broad set of application services over the Internet. AWS allows you to purchase what you need on-demand and does not require minimum commitments or upfront costs.

Click the video to the right to learn more >>
No More Hardware

With AWS you can access the computing resources you need, without any upfront costs or risk of wasted money or restricted capacity. Unlike investing in your own server hardware, AWS does not require minimum commitments or long term contracts—you can downsize or discontinue service if you choose.

See how much you can save by moving from on-premises hardware to AWS >

Same Tools and Capabilities

Whether your goal is to expand your organization's website capabilities, develop and deploy custom applications quickly and efficiently, or build a responsive database structure, AWS provides a familiar environment that can be integrated with your existing resources and processes.

Learn about how you can use your existing virtual machines on AWS >
Magic Beans was founded in 2016 by several Senior Business Executives with strong careers in the biggest Global IT Corporations. The objective was to create a company that can deliver the best Professional Services to support companies in their Digital Transformation Journey completely focus in delivering the best options and alternatives available in the Global Cloud Services Ecosystem. Because going to the Cloud is more than adopting new technology magic beans provide a wide range of expertise to setup and implement a digital transformation agenda for each Business Process in each company considering not only the technical competencies but also the Change Management Services to accelerate adoption and maximize benefits from the Cloud Paradigm Shift.

Contact Us
© 2016, Amazon Web Services, Inc. or its affiliates. All rights reserved.
© 2017 MAGICBEANS COPYRIGHT ALL RIGHTS RESERVED
This message produced and distributed by magic beans | Polo Tecnologico de Obidos Rua da Criatividade, Obidos, Obidos, 2510-216
Confidentiality Warning: This e-mail and any files transmitted with it are confidential and may be privileged and are intended solely for the use of the individual or entity to whom they are addressed. Their contents may not be altered. lf you are not the intended recipient of this communication please notify the sender and delete and destroy all copies immediately.
Liability Limitation: As e-mail can be subject to operational or technical difficulties, the quality of reception may be affected and may be subject to time delays. Therefore, communications that are subject to deadlines should also be sent by post or fax, except if expressly agreed otherwise.
Unless otherwise stated, all views and opinions herein contained are solely the expression of the sender. Any unauthorized direct or indirect use, dissemination, distribution or copying of this message and any attachments is strictly prohibited. If the recipient of this message objects to the use of Internet e-mail, please notify the sender immediately.